The World has started to regain normal life.
Also here in Tokyo, everything is reopening. restaurants, museums, amusement parks..
And us! Soshi's Tokyo Bike Tour!
Some people are still afraid of being in enclosed places so here is simple solution. take a bike!
Feeling the sunshine and breezes gives you the wing to overcome the corona virus!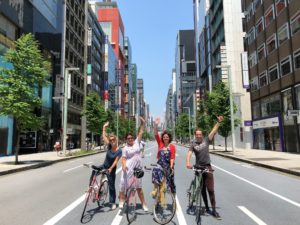 And this is my opinion. now is the best timing to see Japan.
Japan has got back it's tranquillity.
Before the corona shock, tourists were everywhere.
Every tourists shops, spots, duty free stores.. and streets were packed with buses!
But now, streets are so smooth to bike and there is no unauthorized parking by tourists bus drivers.
So yes, ironically, as a cyclist, I like this situation.
Now, street condition is perfect for every bike riders.
If you have opportunity to come to Japan, please take a bike and I promise you that experience will amaze you how easy to ride a bike on the streets in the middle of Tokyo.