Last week, cherry blossoms are beginning to open on trees in Tokyo.
This spring is very warm and that makes cherry blossoms blooming earlier.
Normally, blossoms are started to bloom 25th March but this year was 15th March. (10 days earlier!)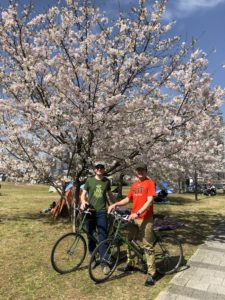 This day's guests is from U.S. and they are enjoying full bloom cherry blossoms near by the bay.
And No worries, we can enjoy cherry blossoms almost 1 month!
Please drop by Soshi's Tokyo Bike Tour and enjoy cherry blossom viewing!