Now, evrywhere in Tokyo, cherry blossoms are starting to bloom.
There are many different species.
Okanzakura, literally means "Big Cold Cherry blossom". as its name suggests, this type of blossom are in bloom cold season, early march.
And now, the best season for viewing Okanzakura cheryy blossoms.
Even Japanese people are enjoying cherry blossom viewing Despite we can see this every year!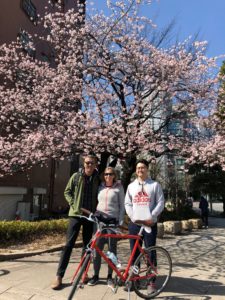 Thank you for coming to Soshi's Tokyo Bike Tour!