Spring has come!
This year's winter was very warm.
It was really bad for skiers and snowboarders. (according to workers in ski resort, this year was the worst snow season ever because of the warm weather.)
But warm winter is always welcome for bike riders.
And also for cherry blossoms viewing!
In Yoyogi park, Tokyo, Kawazu cherry blossoms are in full bloom.
There are many different cherry blossom species in Japan so you can enjoy cherry blossoms since end of February until end of April.
Yes, we can enjoy cherry blossoms 2 month in Japan.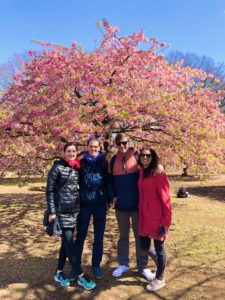 Two Honeymoon couples with Kawazu cherry blossoms.
Thank you for dropping by Soshi's Tokyo Bike Tour!