Hello everyone! How are you doing?
How was this year for you?
Us? not a funtastic. All Bike Tours have cancelled since April and infections in Tokyo are growing.
I was wondering can we do the bike tour in Tokyo next olympic year?
But we can't complain forever. Let's move forward.
In Japan, we have a tradition to eat Soba noodles at the end of a year.
If you go to Soba noodle shop on new years eve day, you will find hundreds of people lining up for Soba in front of a Soba restaurant.
Soba noodles are long so people eat soba with a prayer for longevity and good luck.
We need good luck for the next year, right? I have to go Soba shop!
I went to Sarashina Nunoya. this charming 230years old traditional soba shop is located 10 minutes away from Soshi's Tokyo Bike Tour Shop.
I ordered Anago-ten Soba(Soba noodles with conger eel tempura).
Soba is of course Tokyo's local food and also Anago(conger eel) too!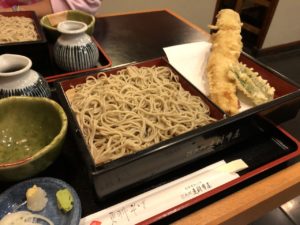 Oh, looks yum. cold broth is served and we dip soba noodles in and just slurp them!
In Japan, making a slurping noise when eating soba noodles is not a bad manner!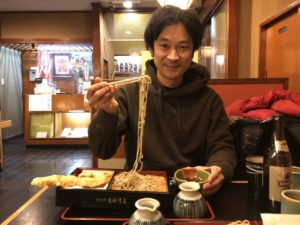 Long soba noodles brings you longevity and good lucks for the next year! I hope So!
When you come to Japan next time, try Soba noodles at the end of a year after joining our Tokyo bike tour!!