Winter is coming in Tokyo but we still can enjoy Autumn leaves!
Relatively Tokyo has mild winter and I think Tokyo's winter is getting warmer than before.
Thanks to that, ginkgo tree's yellow leaves are still beautiful.
I cycled to Ueno park which is very famous for thousands of cherry blossoms and cherry blossom viewing party.
There are not so much people and I really enjoyed biking around that area.
I would say winter is one of the best season to enjoy cycling in Tokyo because there are not so much tourists and cyclists.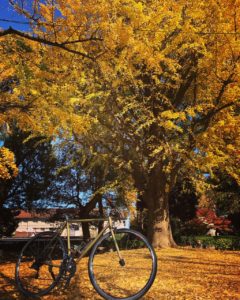 My private bike and Ginkgo tree
We are still running tours everyday.
Why don't you join and feel the peaceful atmosphere of Tokyo?