Hello, Everyone!
How is going everything?
In Tokyo, we are gradually getting back normal life.
One of the Tokyo's popular attraction is Viewing Tuna auction at New Toyosu fish market.
Viewing tuna auction reopened for tourists from Monday after 8 month hiatus.
It's great news isn't it?
However, I liked old fish market's tuna auction much. (Fish market has moved from Tsukiji to Toyosu in 2018 and many people think fish market has lost it's charm.)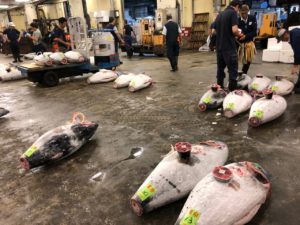 Anyway, things are getting better and more and more tourist's attractions are reopening including us, Soshi's Tokyo Bike Tour!
We are waiting for your attending!