First time "Chatime".
First time "Pearl drink" at specialty store.
Chatime is famous store for Pearl (bubble) Milk Tea from Taiwan!
This store is located just behind "GINZA SIX", new department store in Ginza.
Let's go and grab pearl drink ♡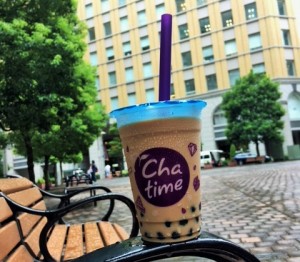 I knew that there are long line everyday around lunch time.
Openning time is 11am, so I was planning to be there 10:55am!
Of course weekday.
Yes! Great decision!
There were only 5 ladies waiting for the open.
I can choose toppings, ices, sugar, etc.
A bit nervous how should I order…but okay! follow the person in front of me, listen to her order, and repeat it!! :D
Black Pearl Milk Tea, pearl:double, sugar:30% , ice: less. (520yen)
Waoh, pearls are chewy, really chewy!! like Mochi (rice cake).
Milk tea is creamy and rich taste, not too sweet.
Yummy!
I am lucky because this kind of store (target for young people) will open in Shibuya/Harajuku area usually.
But it's near our office, luxury area Ginza!
Yes, I can go anytime I want!!