Hello everyone!
Happy New Year!!
I hope 2021 will be a good year for everyone!
In Japan, there is a tradition to see the first sunrise of the year.
If you can see the first sunrise, you will have a good luck for the rest of the year. This is kind of superstition in Japan.
You don't need to wake up really early for sunrise in Tokyo in Winter. Sunrise time in Winter is around 6:50am. Is this still early for you?
This year, I went to Toyosu canal to watch first sunrise. Toyosu canal is just next to the largest fish market in the world, Toyosu fish market. And this area is included in one of our bike tours, Tokyo River Side Bike Tour. Along the way, you can enjoy beautiful Tokyo sceneries. Such as Tokyo Tower, Tokyo SkyTree, Mt. Fuji and peaceful rivers.
Honestly, I woke up bit late and I arrived Toyosu canal at 7:10AM but I made it!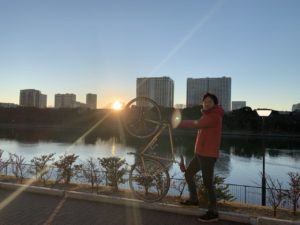 The beautiful Sunrise and Soshi(me) and bike.
I will be a lucky this year:)
And I would like to share this luck with you!