Hello everyone!
How is it going?
Today, I want you to introduce Japanese cuisine, Fugu! (puffer fish or blow fish)
As you know, puffer fish is poisonous fish but Japanese people have been eating it for over thousands years!
Only the cooks who have special license can cook those fish.
In Tokyo, there are many places you can try this delicacy.
The closest restaurant you can taste this Japanese speciality from Soshi's Tokyo Bike Tour is "Sushizanmai"
It's about 10 minutes walk from Soshi's Tokyo Bike Tour or just next to Shimbashi station.
Sushizanmai is famous chain sushi restaurant which is known by every Japanese people.
This restaurant is owned by famous CEO who bought the most expensive single tuna from Toyosu fish market in the history. It was 333million yen (3million dollars)!
Despite of this famous "the most expensive tuna guy", the restaurant sushizanmai itself is affordable.
If you go there for lunch, sushi set menu is only around 1000yen(US$10).
I ordered Fugu sashi(raw puffer fish) 2178yen($20).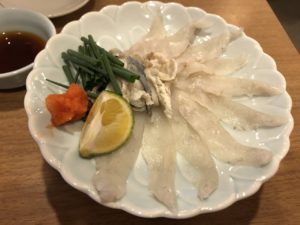 Yes, it's not cheap but I love Fugu sashi.
Raw puffer fish has unique chewy texture. And the more you chew, the more the flavor comes out.
Normally you eat Fugusashi with thin leek and grated Japanese radish as an accent.
The best timing to eat puffer fish is in winter.
If you are visiting us, Soshi's Tokyo Bike Tour next time, why don't you try this dangerously Delicious fish?