March has begun!
Japanese people are really looking forward to this season.
Why? Of course, cherry blossoms!
Now, the street in Nihonbashi area, you can enjoy vivid pink color cherry blossoms, called "Okame zakura"
There is not only one cherry blossom. there are many different species.
So you can enjoy cherry blossoms almost 2 month!
According to the cherry blossom forecast, the most popular cherry blossom, " Somei yoshino" will be in bloom from 15th March. this is 10 days earlier than normal.
Thank for the warm winter, it's very comfortable to ride bike in this winter/spring.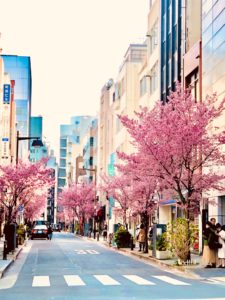 Why don't you visit Tokyo and take a bike tour in one of the best season in Japan?