"What to wear"
Before busy holiday season begins, I would like to introduce our bike tours more.
"Bring something Windproof and/or Thermal wear!!!"
Clothes are very important!
Well prepared never get freezing!
In general, winter is very cold in Tokyo about 5 degrees in the morning and evening, around 10 degrees in daytime.
Here is our guide, Soshi's outfit of the day.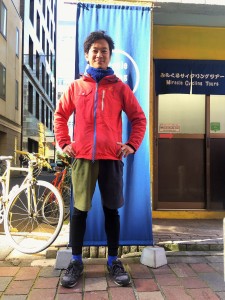 Windproof jacket, Neck warmer, Warm pants and Leggings, Warm Socks + Gloves.
Also Down jacket, Knit, Boots, Beanie, etc. are not too much.
Some guests wore just jeans, a T-shirt and a Hoodie!!!
Yes, they were freezing…
Please prepare something wind proof!
If you have ski jacket, yes! bring it!
I know I (a typical Japanese female :) am sensitive to the cold more than travelers from all over the world.
However freezing for 3 hours must be super tough, well prepared never get freezing :)