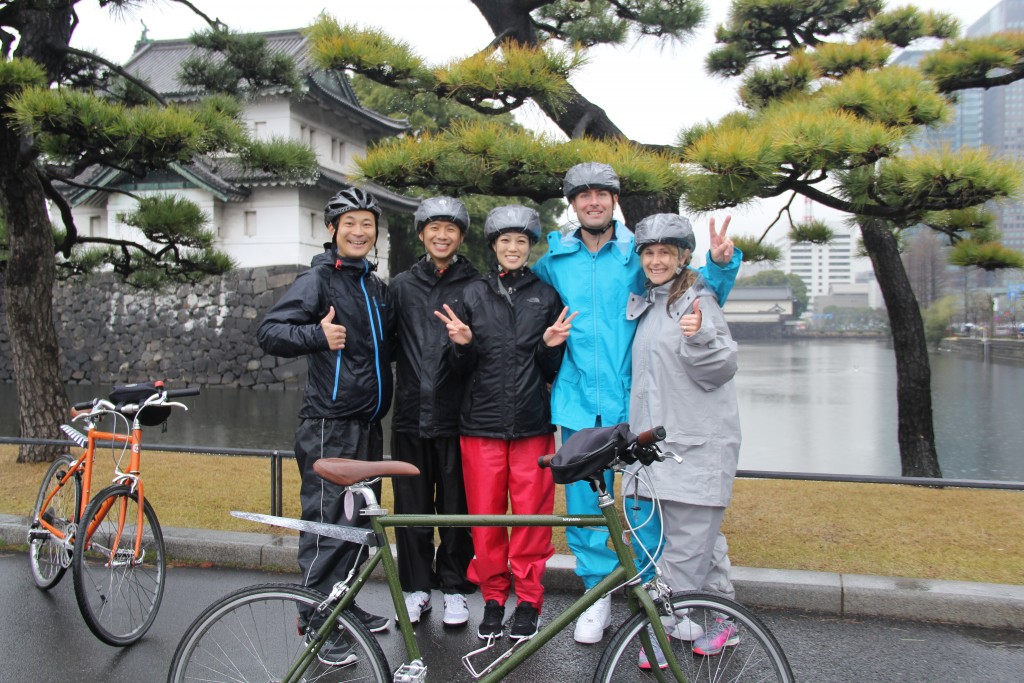 Yeah! We arrived in Tokyo ! Our vacation has started ! We are so excited !
So, let's check the weather…
The weather forecast is saying that tomorrow may be rain in Tokyo.
Oh…we'll have cycling tour tomorrow though…
I'm sad. x(
……?! Don't worry !!!!!
We, Tokyo Miracle Cycling Tour doesn't cancel cycling tours due to a rain.
We prepare all types of raingears and our guides are ready to get wet !!!
If it's rain, what are you doing ?
The answer should be "CYCLING" ;) !!!!!!!!!!!
Cycling in a rain is… surprisingly… great !!!
We're sure, it is.
I know most of the people may say " I don't think so, it will be the worst things to do in a rain."
no no no ……
Just come and join us !
If you decide not to come to cycling tour due to a rain, then, what are you going to do ?
I guess, relaxing at hotel, go shopping, hanging out in a cafe, doing game on i-phone etc…
Doing cycling is better than that !
Because you are in Tokyo, not at your home.
Those things can do anytime in your home, so doing something special.
Rainy Cycling Tour must be unforgettable & memorable things in your trip !
Wearing raingears corps are making line and going around Tokyo by bike in a rain.
Such a funny scene xD
Moreover, there is you. The funny bike corps are including you.
That makes you crack up xD xD xD
It might be hard for you to bike in a rain, but when you complete the cycling tour, you feel like "I'm a brave man/woman ! I can do it anything ! waoh-fu !"
We will not spoil our guests.
Completed by yourself is important.
Also you can get good tips to post on SNS ;-)
After going back to your home, you'll never forget about Rainy Cycling Tour in Tokyo…… with Tokyo Miracle Cycling Tour :D