Whoa!
Look at that!
This is the building that I mentioned in last article.
" Shizuoka Newspaper/ Broadcasting Company Building"
Designed by Kenzo Tange,
same as head office of FUJI Television at Odaiba.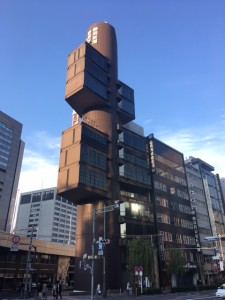 Interesting shape!
I've never had this kind of an amazing imagination(*o*)
I want to see what is in his head :) haha
This building is located Ginza 8 chome, Sotobori-dori Avenue.
I saw some tourists are also taking this building with nice camera!!
Never completes learning about Tokyo :3