Do you know the most famous shopping area in Japan?
"GINZA" the most luxurious shopping town.
Ginza is only 10minutes walk from Soshi's Tokyo Bike Tour shop and it's included in one of our tours, "Tokyo Central Bike tour".
Today, let me introduce you a bit of Ginza town.
"Gin" means silver and "Za" means guild. Because silver mint was located here during Edo period.(1612-1868)
At that time, this little town was just a town for artisans.
After Meiji restoration(1868), Japanese new government built the first rail way from Yokohama to Shimbashi.(1872)
Visitors from oversea arrived at Yokohama port and took train to foreign settlement at Tsukiji(just next to Shimbashi station). This is why japanese first railway was built between Yokohama and Shimbashi.
And Ginza is just west of Tsukiji, North of Shimbashi. So, Japanese government chose Ginza as a model town of modernization.
Since then, there have been more and more expensive, famous flagship stores from all over the world.
Now, there are a lot of luxury brand shops along the main street such as PRADA, GUCCI, CHANELL, BVLGARI, etc etc.. and I normally just bike through this street..
On the main street, there is a gorgeous Neo-Renaissance look building called WAKO which was built in 1932.
This building have been survived from many disasters such as bombing during the WW two.
This classic building with big clock is owned by SEIKO the famous watch company.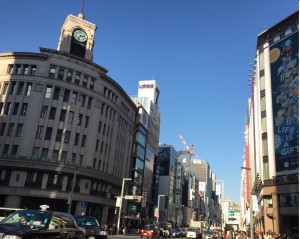 Since Ginza is the most famous shopping area in Japan, there are a lot of shopping towns or streets called something "Ginza" for example, Yanaka Ginza in Yanaka area.
Ginza is not just famous for shopping but also eating.
There are many expensive and non expensive top-notch restaurants include Michelin star restaurants.
For your information, Tokyo has the most number of Michelin star restaurants in the world.
Next time, I would like to introduce you good restaurants in Ginza area.
Please come and enjoy shopping and eating in Ginza after joining Soshi's Tokyo Bike Tour. It's only 10 minutes walk!