Q. When and from where do the tours depart ?
The tours depart every day from Our office.
Full Day Tours and morning Half Day Tours leave at 9:30 A.M. Afternoon Half Day Tours leave at 1:30 P.M. Our office is located at 2-6-7 Higashishinbashi, which is near from the Shimbashi Station on the JR Lines, Tokyo Metro Ginza Line and Toei Subway Asakusa line. Please refer to the map here.
Q. Do I need to make a reservation?
It is highly advisable. You should try to make a reservation as early as possible. However, if there is space on a tour, we will always try to accommodate late riders.
Q. How do I make a reservation and how far in advance must I reserve a tour ?
You can make a reservation directly from this site, or if you need information right away, please call us at +81-(0)3-6809-2293 between 9:00 A.M. and 6:00 P.M.
You can also join any tour at the last minute if seats are still available. Please call us beforehand and we can give you the most current information.
Q. When do I pay for the tour ?
If a booking request is made with less than 4people or within 4days to the tour date, You can pay on the day of the tour.
Please pay at the Office on the day of the tour. We accept both credit cards and cash.

If a booking request is made more than 5 prior days to the tour with over 5 people, you will be required the full payment for the tour fee in advance. in that case, we will send you the invoice and please pay by credit cards.
Please check our cancel policy from here
Cancel policy
Q. Can I pay the tour fee by Credit cards ?
Yes, You can pay the tour fee by credit cards (Visa, Mastercard, AmericanExpress)
Q. Can I leave my luggage at your office ?
Yes, You can leave your luggage, suit case, backpack…etc at our office.
Q. Should I bring small backpack for cycling ?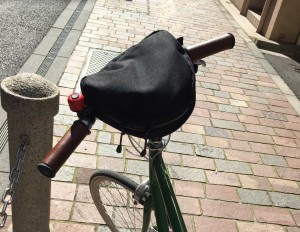 It's not necessary.
Our bikes have small bag and bottle holder.
Q. Can I join with Child ?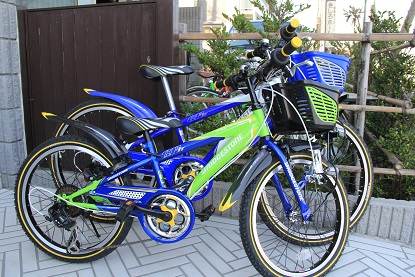 Yes, We can provide bicycle for kids from 110cm(3'7″)
Q. Do you have discount price for kids ?
Yes we have discout price for under 18 years old.
Fullday tours(6hrs) 2,000yen discount from 10,000 yen
Halfday tours(3hrs) 1,000yen discount from 6,000 yen
Night View tours(1.5hrs) 500yen discount from 3,000 yen
If you want to join with your kids, please inform us when you make a reservation.
Q. I want to join with my kids but they can't ride on bicycle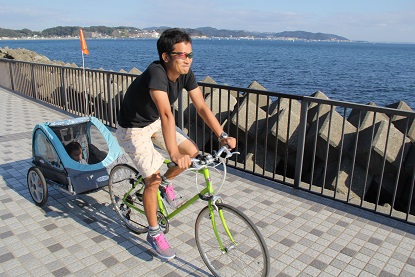 We can lend you Kids Trailer for kids who can't ride on bicycle by themselves. (The seat unit is not suitable for children under 12 months old.) We have single kids trailer and double kids trailer. The maximum weight capacity per child is 40 lb(18kg).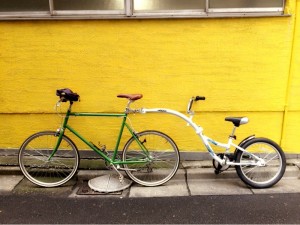 We also have Tag Along Bikes.
-Wheel Size 20inch
-Capacity 85bl/39kg, around 115-130cm
The cost is a half price of an adult.
(6hours tour 5,000yen/including lunch, 3hours tour 3,000yen)
Q. Will I fully enjoy the tour even if I don't speak any Japanese ?
No worries !
The entire guided tour is conducted completely in English. So even first-time visitors to Japan can enjoy and relax the day with colorful descriptions of all the sights in English!
Q. I am a vegetarian…is it possible to get a vegetarian meal on the tour ?
No problem! We are happy to take any special meal requests.
For tours that include a meal, the guide will ask if anyone has any special meal requests at the start of the tour. We aim to provide a meal that pleases you as well as meets your special requirements—whether you are a vegetarian or have special restrictions due to religion, etc (The choice of menu varies with each tour course. We will do our best to meet special requests within these menus).
Q. I'm alone can I join the tour ?
Of course!
Q. I have not been getting enough excercise lately.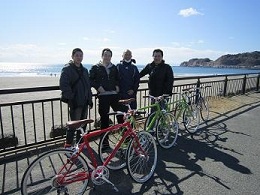 The course is rather flat and we pedal slowly, taking plenty of rest in between.
Q. In case of rain, do you cancel the tour ?
We will not cancel the tour due to a rain.
We are preparing raingears and can lend you for free.
(Rain Jacket, Rain Pants, Helmet cover, Shoe cover)
But we may cancel the tour because of really bad weather such as Typhoon and snow. When we cancel, We will inform you to your contact number or the hotel you are staying.


Q. What kind of bicycle do you provide?
8 speed cross bike. Frame size 47cm – 57 cm suitable for minimum height of 150 cm (5 ft.) or taller.
Q. Can I bring my own bike?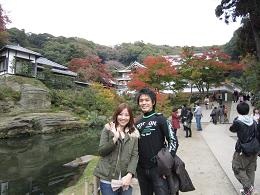 Yes. We discount 1,000 yen from the full price if you wish to bring your own bike, which will be refunded at the time of the tour.
Q. Do you have a rental bike service?
Sorry we don't have a rental bike service due to safety problems.
Q. What is your cancellation policy like ?
Please see our Cancel policy for the cancellation policies for our various tours.